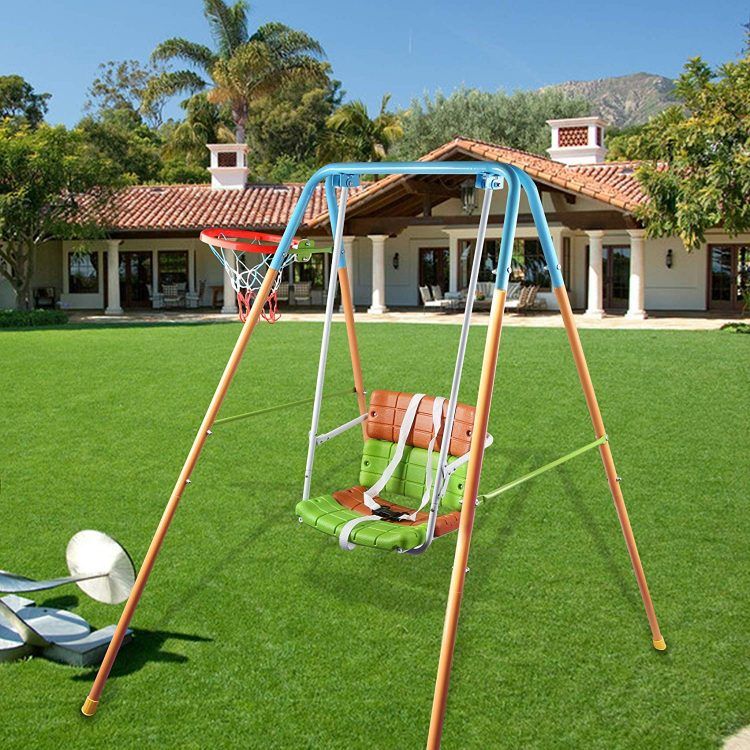 A baby swing is a fun and relaxing way for your little one to feel at peace, giggle, and be lulled to sleep. Whether you're a brand new parent or have a few children already, the best baby swing can be a great asset to welcome into your home. There are numerous types, styles, and functions that go along with a baby swing.
So, how do you know which model is the best for your little bundle of joy?
Well, that's where we come in. You see, we've scoured all of Amazon to find the best and brightest baby swings that money can buy. These selections are met with high star ratings and rave reviews by your peers. We want you to feel confident in our picks and we know seeing real reviews from actual buyers will help you in your search for a baby swing.
On our list, you'll see brands like Graco and Fisher Price. We want you to know that we chose familiar brands known for their outstanding baby accessories and toys. We've included a variety of styles and features as well as price ranges for you to choose from.
Are you excited about finding the perfect baby swing for your little cherub? Great! Let's get to the list.

10. Ingenuity ConvertMe Swing-2-Seat
A wonderful baby swing that converts from swing to vibrating seat with an easy lock. The slim-fold design that folds flat for easy storage or travel. You'll love how this swing is powered by Hybrid drive technology and the batteries last up to 3 times longer.
Check out what the manufacturer has to say, "Ingenuity Convert Me Swing-2-Seat in Orson is two amazing seats in one. This swing converts effortlessly to a seat with soothing vibrations. Entertain baby with 5 swing speeds, 8 melodies and 3 natures sounds. A pivoting leaf-like toy bar offers 2 plush toys and 3 loops for attaching more toys. The tasteful Orson fashion is rich with embroidery and detailed embellishments. Perfect for a girl or boy. You'll save money on batteries thanks to Hybrid rive Technology. Your batteries last up to 3 times longer. Our Slim Fold design allows the swing to fold flat for easy storage and transport. Swing timer has 3 settings: 30, 45 and 60 minutes. Whisper Quiet technology allows baby to swing in silence. 5-point harness and non-slip feet for security. Seat pad and head support are easy to clean. This portable, convertible swing features neutral, modern fashions and deluxe features that make life easier for mom and relaxing for baby".
Pros
Extra quiet motor
Can be used as a swing or vibrating seat
Comes with soothing motions
Cons
Some minor assembly difficulties have been reported
---
9. Fisher-Price Sweet Snugapuppy Dreams Cradle 'n Swing
You'll really love this amazing baby swing and so will your infant. It can be used in two different ways: side-to-side or head-to-toe. The swing features 2 comfortable recline positions, 6 swing speeds, and 16 soothing songs and nature sounds.
Here is a message from the company, "SmartSwing Technology offers 6 distinct swinging speeds, from low to high, so you can find the perfect rhythm to help soothe baby, whether swinging side-to-side (like a cradle) or head-to-toe. When the baby's ready to rock, just remove the seat with a straight upward pull with two hands on opposite sides of the product. Set it on the floor and baby can enjoy either of two rocking motions".
Pros
Fitted with a plush seat and head pad
Pads are removable and washable
Control the swing from your smartphone or tablet
Cons
Some complaints about the motor "rubbing" and exhibiting low torque
---
8. Graco Simple Sway Baby Swing
Graco is a leader in the baby product industry and this swing is no exception to the rule. The convenient and economical plug-option allows you to save money on batteries while using the infant swing. The swings small design fits in any room which allows you to keep your little one close to you, at all times.
According to the manufacturer, "Graco's Simple Sway proves that great things come in small packages. This smart swing has tons of features to help you soothe and comfort baby, all packed into a compact frame design. It's easy to keep baby close wherever you are at home! You'll have the option to power up with batteries or save money with the plug-in. The side-to-side swaying motion comforts your little one and 6 swing speeds let you match baby's mood. A mobile with 3 soft toys, 15 songs and sounds and a 5-point harness to keep baby secure round out the swing's terrific features. Rotate the speed dial clockwise, and lightly push the swing to get it started. Observe the swinging motion for a minute. It takes time for the swing to adjust to a setting. Change setting if needed by moving the dial clockwise for faster speeds or counter-clockwise for slower".
Pros
Comes with a 5-point harness that keeps your baby comfortable and safe
Equipped with a mobile
The unit is portable and very easy to transport
Cons
Complaints about the swing not having great head support
---
7. Graco Duet Soothe Swing Rocker Winslet
Here we have the Graco Duet swing. It's made from durable metal and plastic. You have the option to plug the swing in or use batteries. the swing is suitable for babies who weigh 5.5 to 30 pounds. The rocker is best for babies who 5.5 to 25 pounds. This amazing swing is actually 2 products in 1 as it doubles as a removable infant seat or as a rocker.
Check out what the company had to say, "Your baby will have lots of moods and preferences and, thanks to the six swing speeds of the infant swing, it's easy to find just the right one to delight your little one. Choose a slower swinging speed for calm moments or a faster one for more playful times".
Pros
Designed with a roomy seat with body support and recliner capabilities
Six swinging speeds
Equipped with a 5-point harness
Cons
Some complaints of the swing creaking loudly when in motion
---
6. Fisher-Price Infant-to-Toddler Rocker
An adorably printed baby swing that comes in 8 styles. Swing can be used from the infant years into the toddler days. it supports up to 40 pounds of weight. The swing is convenient for feeding, playing, or resting. Easily switch on calming vibrations to help soothe and comfort your baby.
According to the manufacturer, "There are lots of features for parents and baby to love, including a secure three-point restraint, fold-out kickstand, 2-position seat recline, and a removable, machine washable and dryer safe seat pad for easy cleaning".
Pros
Removable toy bar with two bat-at toys
Stationary seat position with kickstand
Use from infanthood to toddlerhood
Cons
Is battery-powered only and does not plug into an outlet
---
5. Fisher-Price Papasan Cradle Swing
This swing is super cute and comes in 3 different colors. It's great for newborns. It features two swinging motions to soothe your baby as well as plays songs and makes sounds of nature. Your little bundle of joy will love the motorized mobile with music, overhead starlight show, and soft hanging toys.
Check out what the manufacturer has to say about this product, "The swing has two music modes and two sound effects. There are 16 songs total: 8 daytime songs, 8 nighttime soothing songs, and two long play sounds. Mom can customize baby's swinging experience by choosing motion only, music only, mobile only or any combination she can think of. There are 6 soothing speeds which work in swing or cradle mode and a bead bar on the feeding tray. The 3 point restraint keeps baby secure and the frame easily folds for storage".
Pros
Swing comes with an AC adapter
Supportive, calming design
You can customize the songs the swing plays and the speed
Cons
Claims of the power button sometimes not working when pushed the first time
---
4. Ingenuity ConvertMe Swing-2-Seat Portable Swing
This cute baby swing comes in 3 different colors. It is easy to transport and can move about the house so that you can see baby no matter where you are. It comes with a 5-point harness and non-slip feet for extra security. The foldable design is easy to store and transport. This swing is suitable for children from birth to 9 months of age.
A word from the company, "When the list of baby gear items feels endless, a combo seat fits just right. This baby swing converts to a vibrating infant seat – two parenting must-haves in one. When used in swing mode, 5 automatic swing speeds mean you can pick just the right tempo for your baby. Our Whisper Quiet technology makes swinging nearly silent, all you'll hear are the 8 gentle melodies and 3 nature sounds".
Pros
Includes removable headrest
Equipped with vibrating movements
A place that promotes relaxation for your baby
Cons
Only battery operated and cannot be plugged into an outlet
---
3. Graco Glider LX Gliding Swing
The Graco Glider is a phenomenal baby swing as it is both battery powered and able to be plugged in. This swing soothes your child with a gentle motion.
Check out what Graco has to say about this product, "Graco's Glider LX baby swing, in Affinia, is a unique gliding swing that soothes with the same gentle motion you use when cuddling and comforting baby in your nursery glider. For your convenience, this innovative gliding swing has a compact frame that uses 40% less space than other leading swings, and for flexibility, you have the option to plug-in or use batteries. A plush, roomy seat with removable infant supports and vibration will keep baby cozy, while music will keep baby entertained in the infant swing. With the Graco Glider LX, you have all the features you want in a baby swing, but with the gliding motion baby loves".
Pros
Comes with an adjustable toy bar so baby can play
Equipped with a 5-point harness
Very roomy and comfortable
Cons
Toys are attached by Velcro and can easily be pulled off or fall off
---
2. Ingenuity Cozy Kingdom Portable Swing
This is a great swing because it is meant to be moved around and even traveled with. it's very easy to transport. It is made with PP, ABS, POM, TPR, steel, and polyester materials. it's durable and sturdy.
Check out what the company had to say, "This comfort swing gives your baby a front row seat to your busy day. Made for moms and dads and babies alike, the Ingenuity swing keeps baby safe and secure when you need a second set of hands. The plush fabrics cradle baby in a snug embrace, while gentle music keeps a calm environment. Six-speed options with TrueSpeed technology ensure sure your baby's favorite swing speed stays consistent, even as he grows. The swing seat reclines for ultimate comfort. It's tough to say who loves this swing more – parents or babies. Luckily for everyone, with its foldable and portable swing design, you can take this must-have almost anywhere you go. Age range – 0 to 6 months".
Pros
Folds up for compact storage and travel
Equipped with 6 extra quiet swing speed options
Is able to recline
Cons
Does not come with an AC adapter
---
1. Fisher-Price Snugabunny Cradle 'n Swing with Smart Swing
The Fisher-Price Snugabunny is a parent's dream come true. We absolutely love this swing.
Here is what the company has to say about this baby swing, "Fisher-Price My Little Snugabunny Cradle 'n Swing cradles and swings…soothes and entertains…just the way baby likes it. How? By letting you choose and combine features baby likes best! Choose a seat position (recline or upright; left-facing, center, or right-facing), which determines the swinging motion (side-to-side cradle or head-to-toe swing), and choose a swing speed (1-6)—then, if it suits baby's mood, add 16 soothing tunes, gentle nature sounds, and motion on the motorized mobile. Sot little birdies "fly" overhead to help soothe, entertain and stimulate baby's developing senses and a tethered plush bunny toy to snuggle offers soothing comfort and playtime fun".
Pros
Equipped with 2 swinging motions
Six swing speeds
Machine washable seat cover
Cons
Why We Chose Fisher-Price Snugabunny Cradle 'n Swing with Smart Swing Technology As Our Top Choice…
We hope you were able to find the perfect baby swing for your sweet little one on our list. We certainly gave you a plethora of choices. These swings have varying features, styles, and designs that we know you'll love. Each of our picks is backed by rave reviews and high star ratings on Amazon.
Even though we love each of these baby swings, we had to pick one for our #1 spot. We decided to go with the Fisher-Price Snugabunny Cradle 'n Swing with Smart Swing Technology. This swing comes highly rated by people who have purchased it. It comes with two swinging motions that help soothe and settle baby for sleeping. You'll love the 6 swing speeds, 16 songs, soothing nature sounds, and everything else this infant swing has to offer.
Which one of these baby swings will you be purchasing, today? We hope you go with our top choice, but any swing from this list is sure to be stellar.
Be sure to click on the yellow Amazon button for a swift and secure checkout experience.