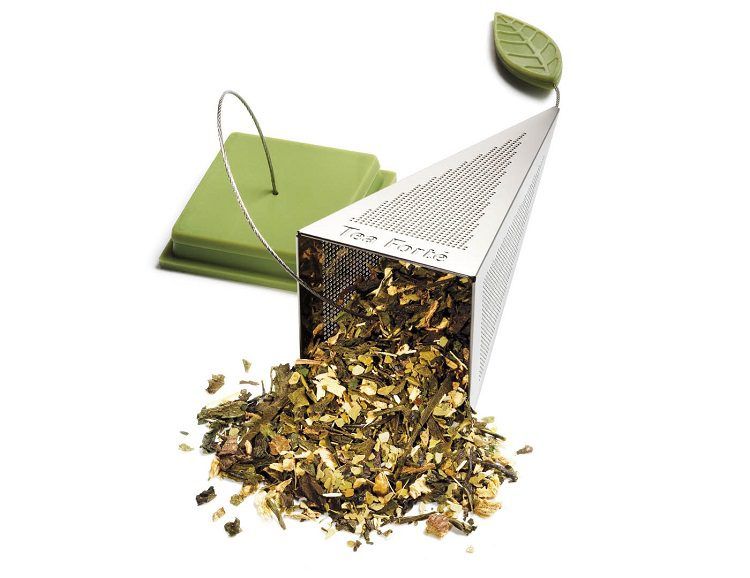 If you really love your tea, you probably know how you like it. Earl Grey, English Breakfast, Chai, Mint, or Herbal–whatever your preference, you know just how the steam smells before you sip the hot tea, and this simple pleasure helps you get through every day.  What makes the best tea steeper? You also rejoice in the many health benefits of tea, especially if you enjoy green tea or herbal teas with various health benefits like the stomach soothing power of mint and ginger teas, and the energizing, get over a cold ability of citrus teas.
Whatever tea you like, if you are a dedicated tea drinker you have thought about moving past the boring monotony of tea bags and delve into the wonderful world of infusers.
Infusers allow your tea leaves to move around, allowing more natural permeation of the hot water into the leaves. This means more flavor and essence of the leaf will find its way into your cup of tea.
People have been perfecting the tea steeper for many years, and choices have expanded as technology has increased, to meet the needs of a variety of tea enthusiasts.
Brewing baskets are big, deep spaces for water and tea leaves to mingle. Since the more surface area is allowed contact with the tea, the better, brewing baskets are one of the most effective techniques for steeping tea.
Ball tea infusers are cute and easy to use, with a chain or handle to dip the tea leaves in their mesh cage into the tea, but the space is not sufficient for tea leaves to spread out for maximum steeping.
Teapots with built-in infusers work well like the brewing baskets but keep everything contained in a cute package that looks classic and is highly customizable. Teapots can be glass, ceramic, or cast iron.

10. Cat Shaped Infuser/ Steeper/Strainer for Loose Tea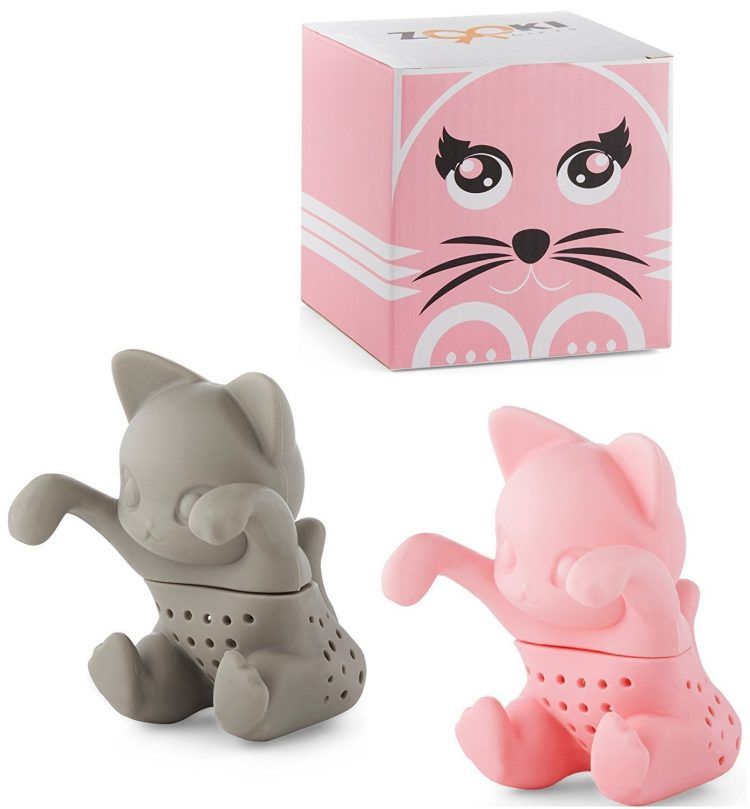 If you are looking for adorable tea steeping on the go, and don't have time to wait for a teapot or large diffuser, these cute little steeping kitties might be for you. These high-quality steepers don't have as much space for maximum exposure of leaves to water like larger steepers, but they are high quality, easy to use and wash, and of course, cute.
Pros
Non-Toxic, Food Grade silicon is FDA approved and BPA free.
No aftertaste or odor, harmless to you and the environment
Easy to wash in the dishwasher, but a quick rinse under cold water is usually sufficient
Child-friendly design, so you don't have to worry if your toddler gets hold of one
Good for iced or hot tea
Cons
Small diffusing space offered inside kitties will not allow penetration of water for best steeping

Steeping is slower than in larger steepers
Seams look unattractive
May come undone accidentally
---
9. BoldDrop Extra Fine Loose Leaf Tea Infuser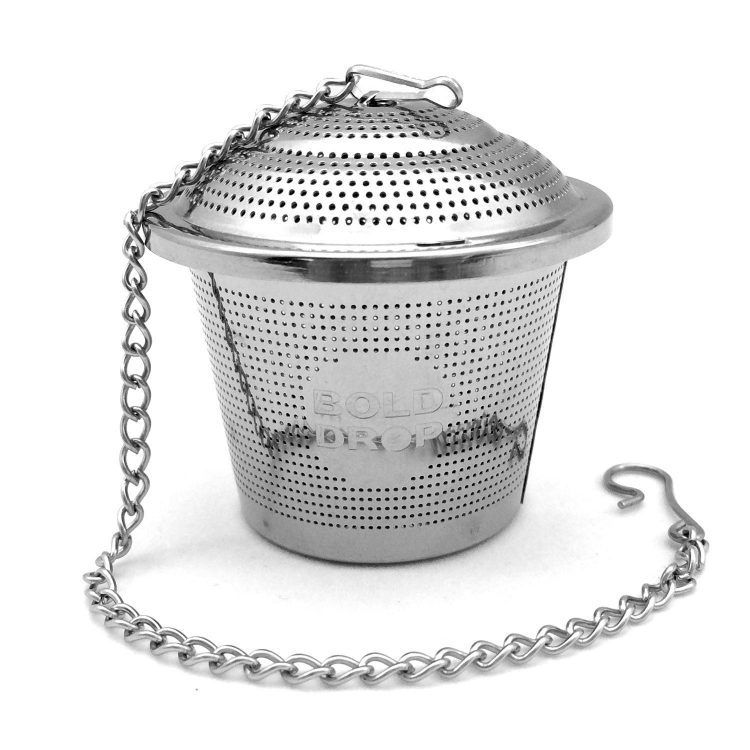 If you want effective steeping power on the go in an easy to clean and use design, the BoldDrop is for you. This classic infuser offers a big cup to hold up to two teaspoons of loose leaf tea, and the mesh is fine enough to catch even the tiniest tea particles for a debris-free sip every time. The long chain allows easy access even in deep cups. While the BoldDrop doesn't have as much room for ultimate seepage as larger diffusers, it offers a lot of steeping room in a to-go cup diffuser.
Pros
Use in any size cup or mug with ease
Long chain and secure twist top design
Food grade stainless steel for long-term performance
Fine mesh for tiny loose leaf teas
Cons
The top can be challenging to close and may pop off when being pulled out of tea
The mesh may be too fine for water to circulate well
The hook is a bit awkward for attaching to cup edge
---
8. Teaze Tea Infuser – Tea Pot for Cup or Mug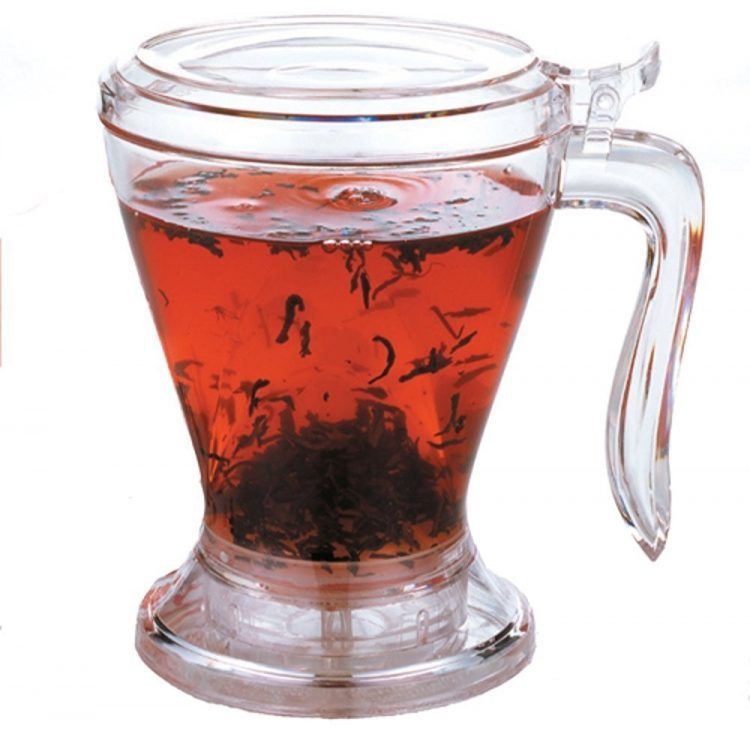 For ultimate water to tea leaf exposure, consider the Teaze. The Teaze lets loose tea leaves float freely, fully absorbing the hot water and seeping all the essence of each leaf into this conveniently designed steeper. No worries about pouring and spilling, the Teaze fits directly onto your cup and releases perfectly infused tea free of debris.
Pros
Plenty of diffusing space for well-steeped tea
Releases tea directly into cup or mug for spill-free convenience
BPA-free and safe to use in the dishwasher
Cons
Only makes 16 ounces of tea at a time

Not as easy to clean as other diffusers
Some complaints of leaking
---
7. The Squirrel and Acorn Loose Leaf Tea Infuser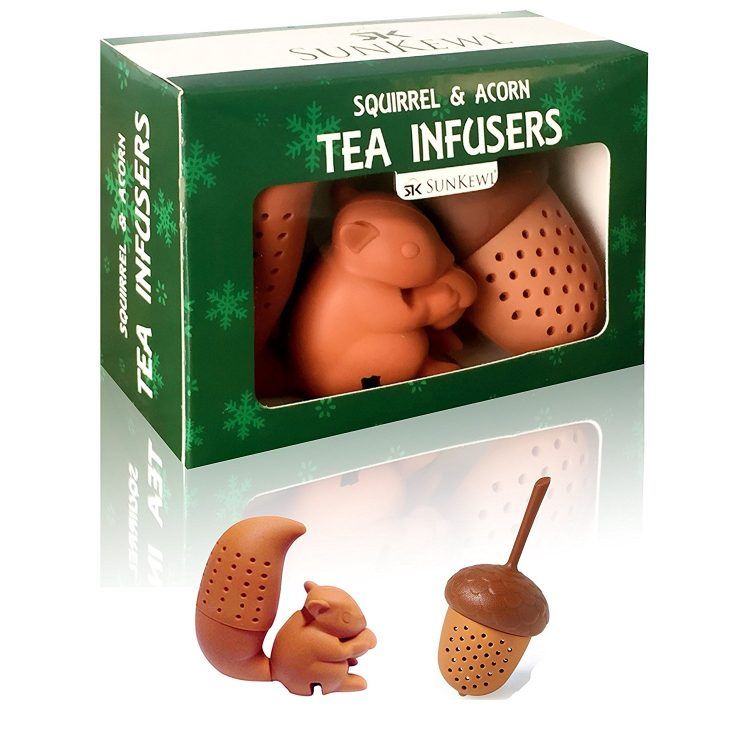 These clever and very cute infusers by SunKewl allow for easy use and cleaning. The silicon squirrel and nut are microwave and dishwasher safe, so you can heat up your tea without removing the diffuser. While the limited space doesn't allow for as much diffusing power as other steepers, the squirrel and nut have more space and options in use than other cute silicon steepers.
Pros
Microwave and dishwasher safe

Food grade and non-toxic, made from BPA-free silicone
Soft and tasteless
Two designs in the package
Cons
Too small for adequate diffusion 

Don't hold very much tea
Hang awkwardly on side of the cup
---
6. Tea Commission Tea Infuser Steeper Strainer Stick Pipe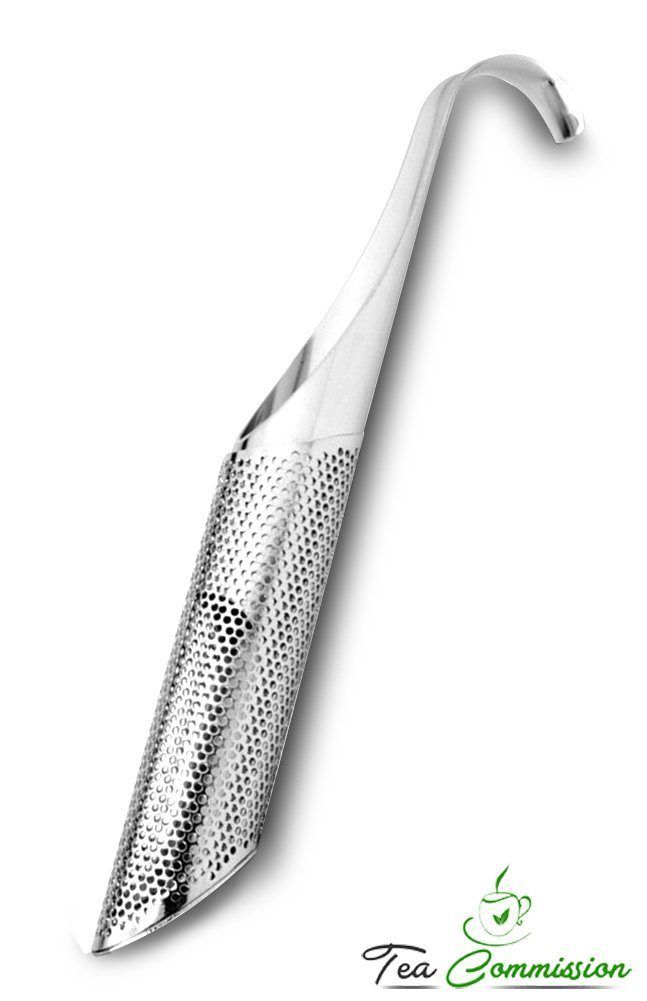 If you really want a dip-in diffuser but don't want to sacrifice on steeping power, the Tea Commission Stick Infuser might be right for you. This steeper allows plenty of space for your tea to fully expand and soak in moisture. The micro-perforated stainless steel allows good water flow while still keeping tea leaves contained. The smooth stainless steel is very easy to clean.
Pros
Micro-perforated stainless steel is easy to clean and allows for good water flow for ultimate steeping
Clever tall design allows for more tea and plenty of room for steeping
Dishwasher safe but you won't need to put it in the dishwasher
Cons
While it holds more tea than many mesh ball drop-in diffusers, it doesn't allow nearly as much room for seeping as other diffusers
Some complaints that lid comes off easily or sticks
---
5. 

GROSCHE London Drop In Ultra Fine Laser Cut Stainless Steel Tea Infuser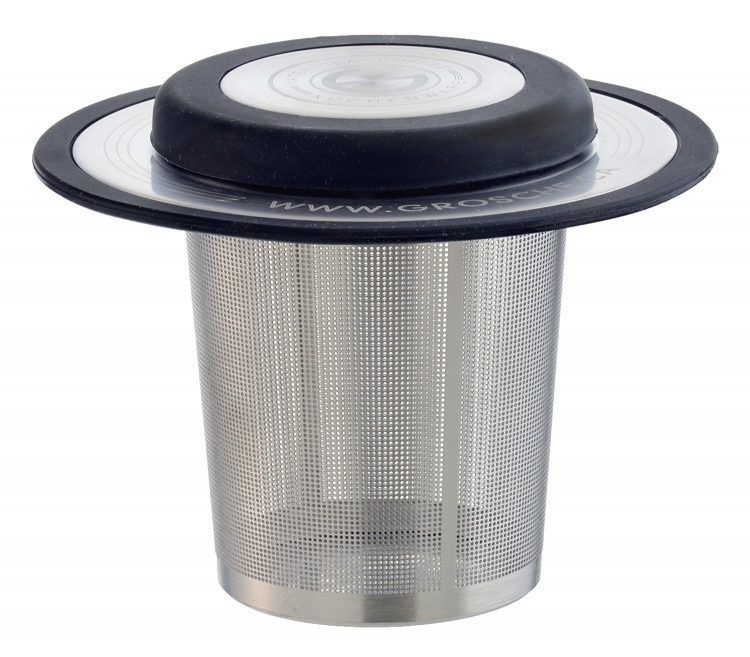 For a functional, multi-purpose, large capacity steeper look no further than the Grosche London Drop. This large capacity strainer can fit in your cup for steeping on the go. Set it on its drip-catching lid to you never make a mess making or drinking tea. The lid is also great to keep your cup warm before and between drinking.
Pros
Laser cut finest grade stainless steel
Drip catching lid and tabletop holder
Good size and convenient for on the go steeping
Cons
Silicon ring comes off easily
Very small particles can get through the mesh
---
4. Khaw-Fee Loose Leaf Tea Infuser – 1.3 Liter Borosilicate Glass Pot and Stainless Steel Infusing Basket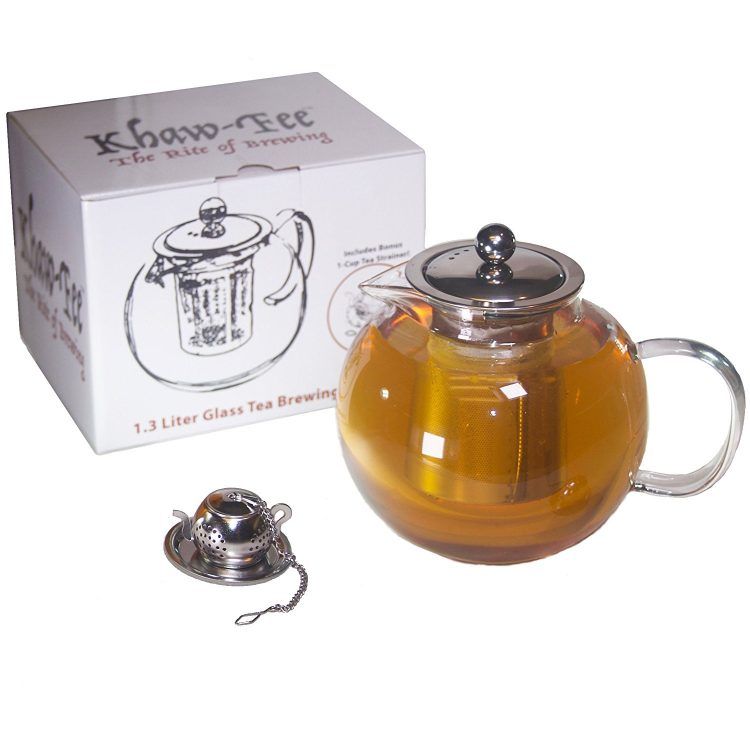 The Khaw Loose Leaf Infuser provides a large diffuser in an attractive glass teapot. The spout is designed to eliminate spills and the high-capacity pot fits 1.3 liters. In case you need a quick cup on the go, Khaw also includes a single cup infuser. If you are feeling coffee over tea and like cold brew, the Khaw can cold-brew coffee as well.
Pros
Extended, carefully designed, spout prevents spills
Attractive, sleek glass design
Single cup infuser bonus
Large infusion area
Cons
Awkward top
Not stove-top safe
Glass is thin
---
3. 

Apace Loose Leaf Tea Infuser (Set of 2) with Tea Scoop and Drip Tray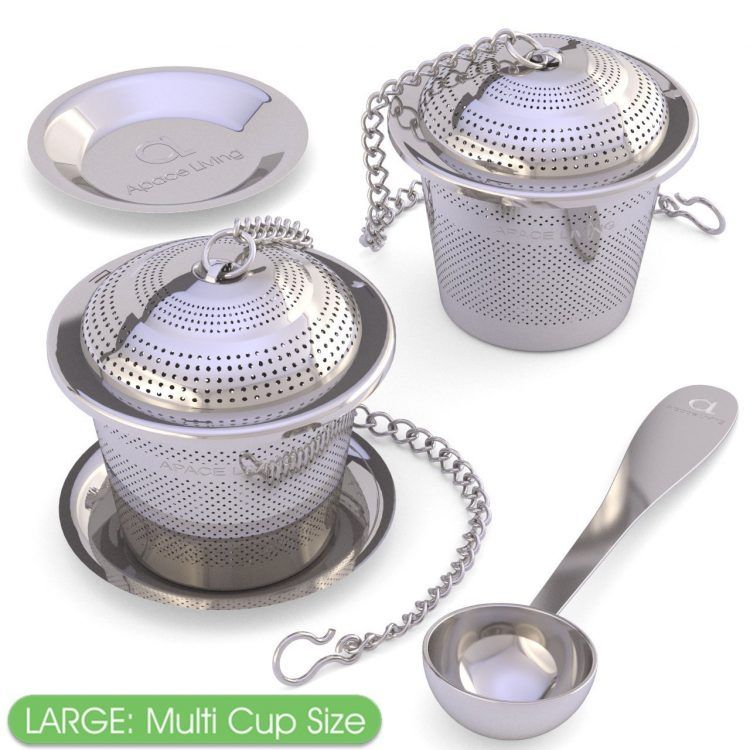 Apace offers all you need for excellent loose leaf tea. The Ultra-Mesh technology is the result of a barrage of testing. The mesh allows for good water flow while still keeping debris out of your tea. Solid stainless steel construction will last you years and is easy to clean. Comes with one year warranty so you know you can trust Apace.
Pros
Ultra-Mesh technology to allow for excellent water flow and flavor while keeping tea debris free
Solid stainless steel construction for easy cleaning and many years of use
Toxin-free and beautiful design
One year warranty
Cons
Steel fades to gold color over the years
Chains may break and lids may not fit correctly
Good water flow may sometimes allow some particles into tea
---
2. GROSCHE Aberdeen Tea Steeper, 1000 ml 34 oz, Teapot and Tea Infuser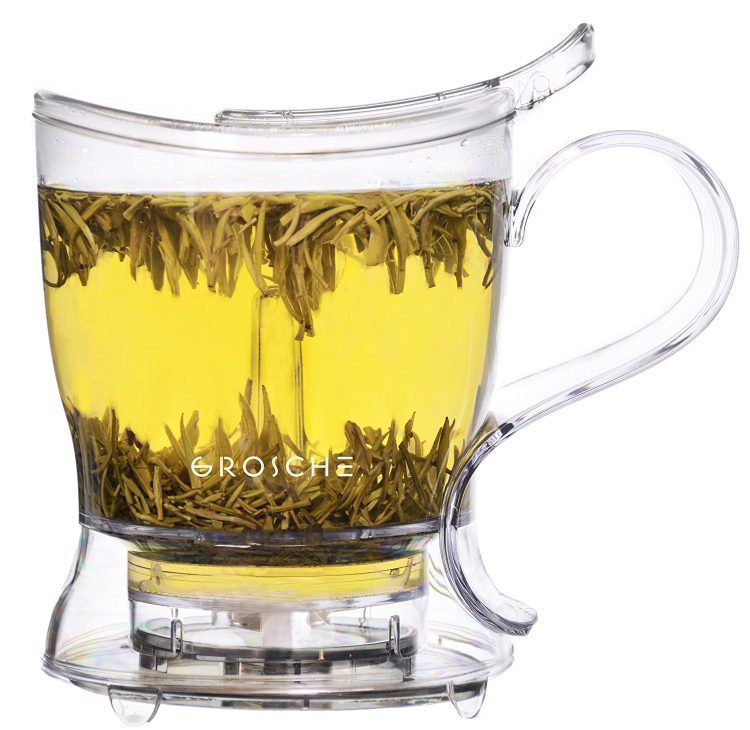 For ultimate and attractive tea infusion in large quantities, the Grosche Aberdeen Steeper is a good choice for you. This teapot is BPA free and elegantly constructed of beautiful steaping. Who knew tea could be such art? This steeper is easy to use, just add hot water and tea and pour. Fully take apart the cleaner to clean, or use the dishwasher.
Pros
One year warranty offered by a trusted company
Excellent tea leaf to water ratio
Elegant design and 100% BPA free
Make as much or as little tea as you need
Cons
Not good for on-the-go steeping
Pouring through the filter may result in spills
Large quantities of tea will get cold once made since there is no warmer and this kettle is not stovetop safe
---
1. Teapot Kettle with Warmer – Tea Pot and Tea Infuser Set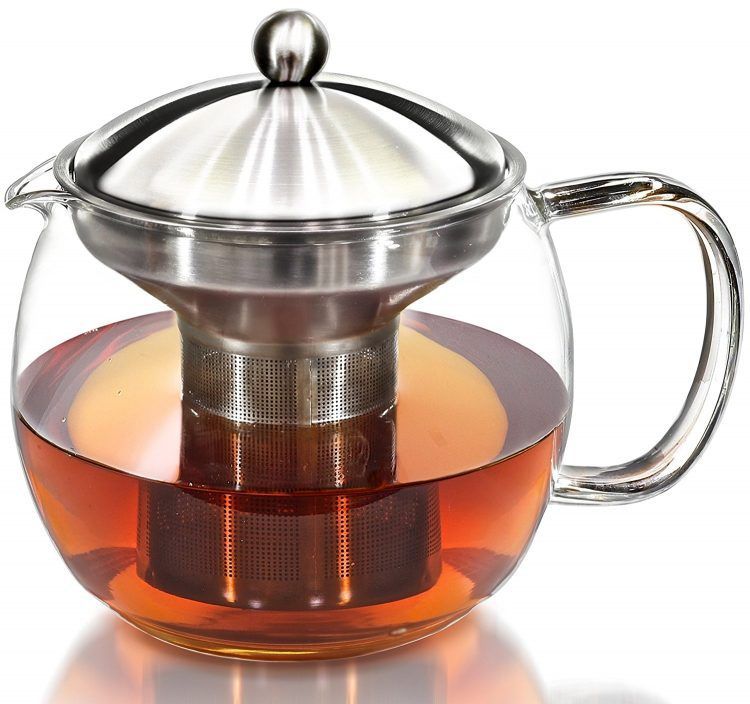 For excellent steeping in an easy to use teapot that will keep itself warm while you enjoy cup after cup, look no further than this Teapot by Willow & Everett. The glass pot is microwaveable, and the brushed silver stainless steel lid and diffuser are elegant and high-quality. It couldn't get easier to make an excellent cup– or four. Just microwave the kettle with the quantity of water you want, then attach the lid and diffuser and you're steeping.
Pros
Easy to use since water can be microwaved right in the kettle
elegant, attractive design
Warming pad for a hot cup of tea every time
Spill-free lid and stainless steel mesh for any size tea leaf
Comes with cozy
Cons
Glass is fragile
Not good for to-go
Why Should You Drink Loose Leaf Tea Instead Of Tea Bags?
If you are new to drinking tea, you might think it's all the same. However, there are more benefits to drinking loose leaf tea instead of the bagged version. Here are a few of the advantages:
More Nutrients
When you steep loose leaf tea, it allows more absorption from the leaves into the water. The tea absorbs all of the minerals, flavor, vitamins, and aroma from the leaves. This process provides a more tasty and nutritious cup of tea.
On the other hand, steeping a tea bag limits the amount of infusion from the tea leaves. You can only get as much of the nutritions as the size of the bag. Tea bags are filled with small particles of the leaf rather than the whole thing, which only gives partial vitamins and less flavor. 
How To Brew Loose Leaf Tea
There's a bit of a science to steeping loose leaf tea. But don't worry, you don't have to an expert, and it's okay to have a learning curve before you get it right. Here are a few pointers:
Use Fresh Water
If you want a nice soothing cup of tea, it's best to use fresh water. If you can, use filtered or spring water. By doing so, this will provide your drink with the ultimate flavor and freshness.
Quantity
The amount of tea you use determines how it will taste. However, you might have to do trial and error to figure out the best amount to suit your taste buds. Just pay attention to how strong the flavor is when you drink it. For instance, if it's really strong, it might not be because you brewed it too long but because you used too many leaves.
The amount of time steeping time
Usually, brewing a cup of tea will only take about two to three minutes. However, you can start by steeping it for one to two minutes just to same the taste. If you prefer something stronger, brew for a longer time.
Several steeps
Typically, leaves can be brewed at least two to three times. All you have to do is add hot water on top of the leaves and let it steep for longer on your second and third steep. Also, remember to drain the water from the leaves after you are finished brewing.
Final Thoughts On Using Loose Leaf Tea
If you are a tea lover or you aspire to be one, drinking loose leaf tea provides a much better experience. If you want to enjoy a richer flavor in your drink, this is a good option. Plus, if you desire to get more nutrients in your body, it's good as well. Sure, it might not be as simple as using tea bags, but it's definitely worth it. Plus, tea steepers are cute and decorative. As you can see from the list above, there are lots of fancy sleepers that will make brewing a lot more fun and interesting.
Which Should You Buy?
The Apace Loose Leaf Tea Infuser offers the best balance of home diffusing and diffusing on the go. The durable diffusers are made of a strong, carefully designed stainless steel for long-lasting, debris-free diffusing. While kettles offer better options for only diffusing at home or for a group, the Apace infuser allows for perfect diffusing on the go, or soak both diffusers for plenty of tea at home. Diffusers can be soaked in tea still warming on the stove, or boiling water can be poured into any container of your choice.