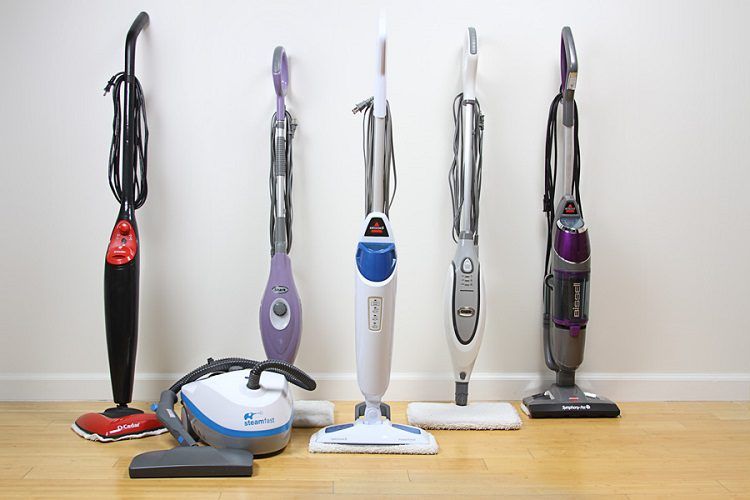 If you are still using a mop and bucket to clean your floors, then you are missing out on the convenience of steam mops. Steamers allow you to clean all types of surfaces without the mess and chemical exposure. You can also avoid the hard work that is put into manual mopping with a variety of accessible features.
Many options include micro-fiber pads that can be washed and recused, which save you money and is great for the environment. Plus, mops are easy to assemble and maneuver as they provide simple designs to remain light-weight that suit all types of tasks. Some even include attachments for complete cleaning versatility allowing you to steam furniture, clothes, and appliances.
Steamers give you control options as well. Set your steam power and control water flow to ensure your floors get clean and dry fast, also a time saver. The swivel mop head goes beyond traditional mop capabilities by allowing you to never miss a spot even in the hardest to reach places. And switch between hard floors to carpet on some models that include gliders and vacuum options.
Save yourself time and energy by cleaning your home with these top 10 steamer mops.
10 Swiffer SteamBoost Deep Cleaning Steam Mop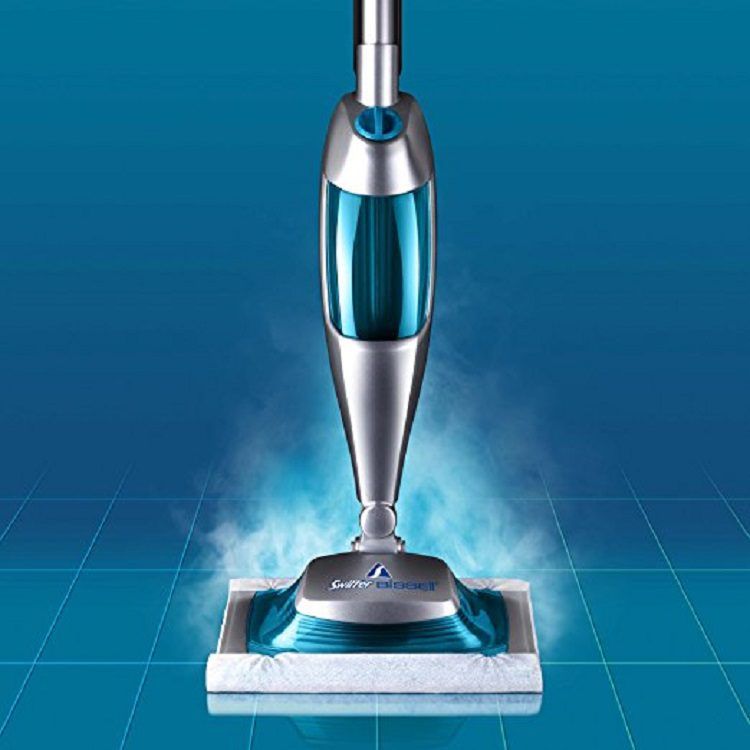 The starter kit cleans all types of floors from treated wood, laminate, tile, and natural stone. It combines steam power with a BISSELL cleaner that grabs dirt using disposable pads. The mop is compact, lightweight, and heats up in 30 seconds. Just attach the handle, fill the container with water, load with a fresh pad and plug it in.
Pros:
Swivel head for 360 degree-reach
Light indicator to show steam is powered
Pads come in a variety of scents
Cons:
Not enough steam power to clean heavy stains and spills
The button must be pushed during steaming, so it wears quickly
---
9 Shark Steam Pocket Mop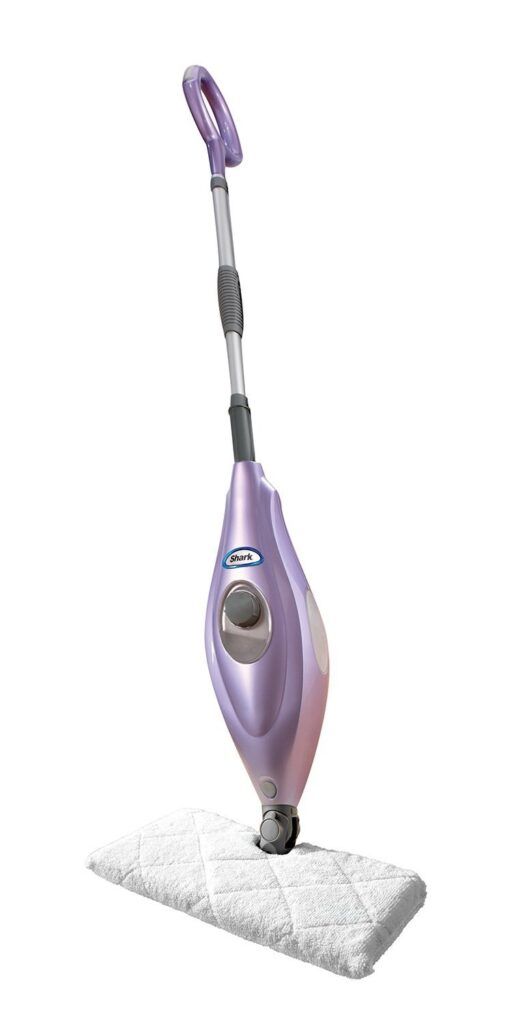 This mop features a hands-free steam discharge that removes up to 99.9% of germs. Use the large 450ml water container to create steam in 30 seconds. Then attach the washable microfiber cloth with its two-sided design to clean any watertight surface. The microfiber attracts dirt and small dust particles while the swivel head gets into hard-to-reach places.
Pros:
Mop head flips to use both sides of the cloth without removal
Floors dry quickly after use
Works without any chemicals
Cons:
Complaints of streak marks left after use
Difficult to apply a lot of pressure to mop head without breaking
---
8 Light N Easy Steam Mop – Steam Cleaner

The versatile and smart design of this mop allows you to clean hard surfaces, carpet, fabric, and even appliances. Its smart sensor detects your movement speed and material type to adjust steam amounts. The 9-ounce water compartment and 20-second warm up allows you to move from one job to the next while filling up in between without losing heat. The square design reaches into corners at all angles while the steam releases on all sides to provide 99.9% antibacterial cleaning coverage.
Pros:
Has a one-year warranty
Can stand on its own for storage
Includes a filling cup and funnel
Cons:
Only comes with one washable micro-fiber cloth
---
7 Bissell 1806 PowerFresh Deluxe Steam Mop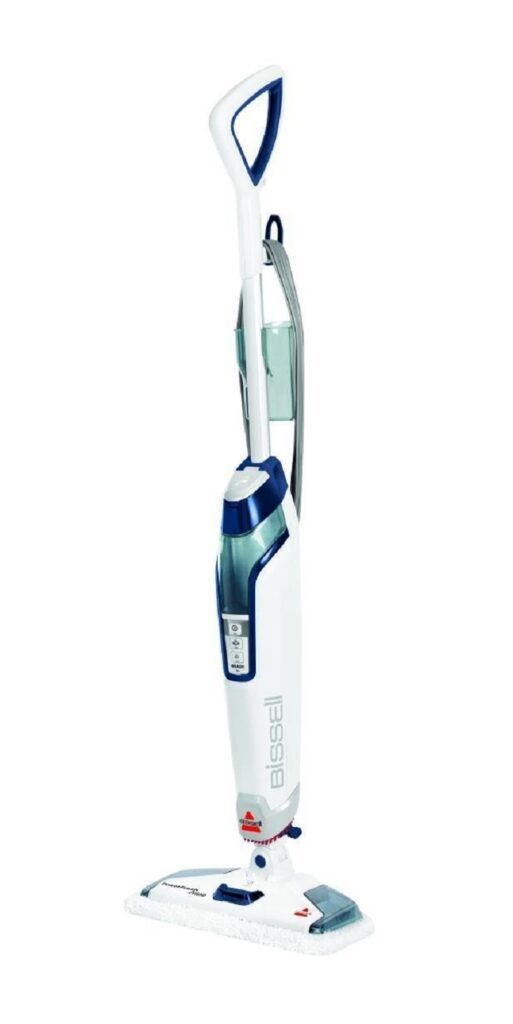 Easily adjust this mop according to your needs with a high and low steam setting, a scrub attachment for tough stains, and changeable scent disc inside the cloth and on top the steam vent. The foot release locks in place for easy storage and allows for a smooth transition from mopping to scrubbing. It includes a measuring cup to fill the accessible top water tank. It also comes with a long 25-foot power cord and 2 micro-fiber pads. Naturally remove 99.9% of bacteria from your surfaces.
Pros:
Has a 2-year warranty
Scrubber works well on grout and tile
Heats up quickly at the appropriate temperature
Cons:
There is only one steam release jet
Difficult to change the cleaning pads
---
6 SKG 1500W Powerful Non-Chemical 212F Hot Steam Mops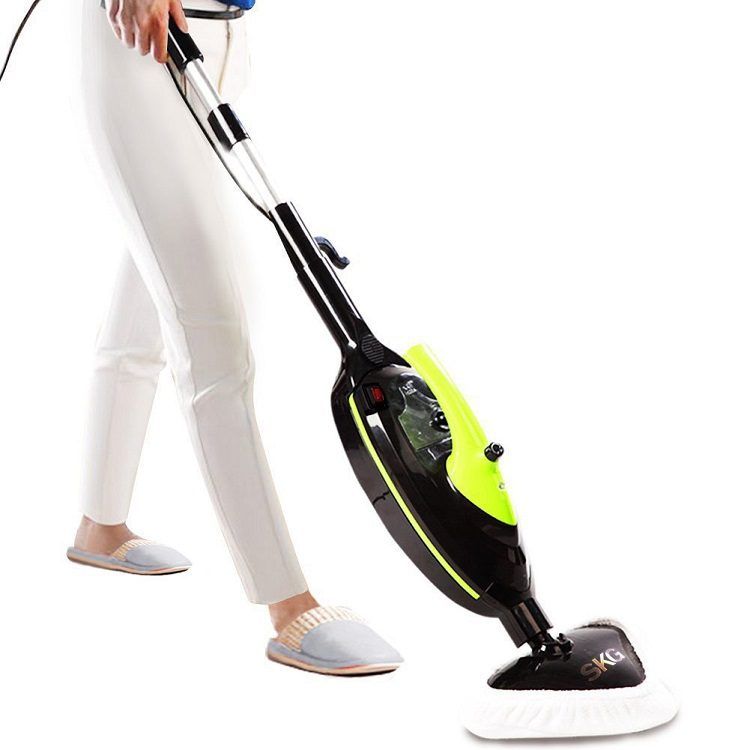 This multipurpose mop comes with a hose extension, 6 nozzle attachments and three different cleaning pads. The glide attachment lifts the steamer up allowing it to move smoothly from flat surfaces to carpet. Adjust the steam valve according to your task with up to 212f degrees of steam and 1500w of power. The triangle 180-degree swivel design and flexible handle ensures no spot will be missed. Its built-in safety mechanism beeps louder when water levels are low or if the machine is left on accidentally.
Pros:
Comfortable shoulder strap for cleaning using the extension hose
Includes a 1-month trial period and 2-year warranty
Heats up between 15-30 seconds
Cons:
The water tank is small
Handle material is fragile
---
5 BISSELL 1940 PowerFresh Steam Mop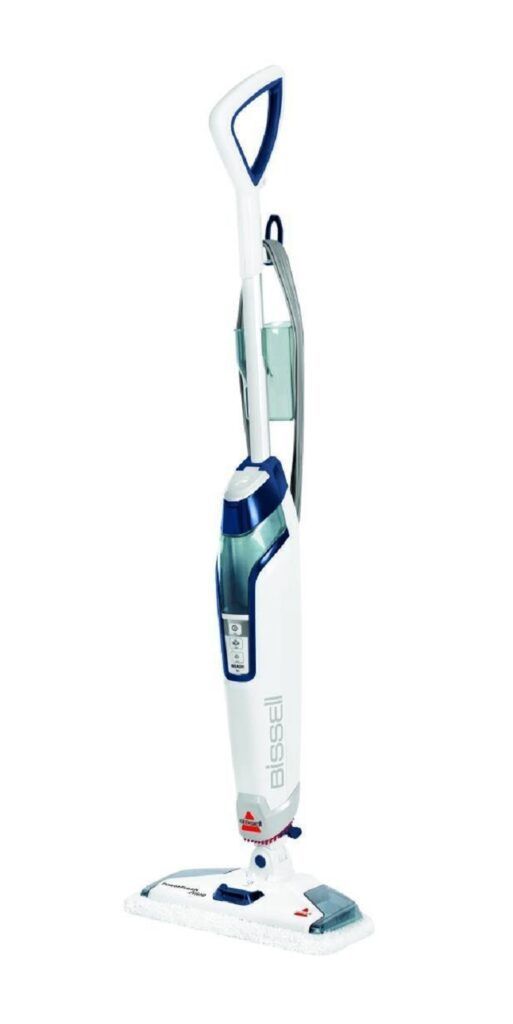 Customize your cleaning with this mop's digital 3-steam setting for any type of hard surface from hardwood to laminate. Use the retractable foot scrubber for sticky messes and grout on tile and stone. It comes with 2 micro-fiber pads, one with scrubbing strips and scent inserts that can be placed inside the pad. The mop is designed to rotate and bend getting into and under hard-to-clean spaces. It naturally sanitizes killing 99% of germs.
Pros:
Removable water tank for easy filling
Pads contain microban protection to stop the growth of bacteria
Includes 2-year warranty
Cons:
Pads tend to slip when in use
Water tank difficult to remove
---
4 Shark Genius Steam Pocket Mop System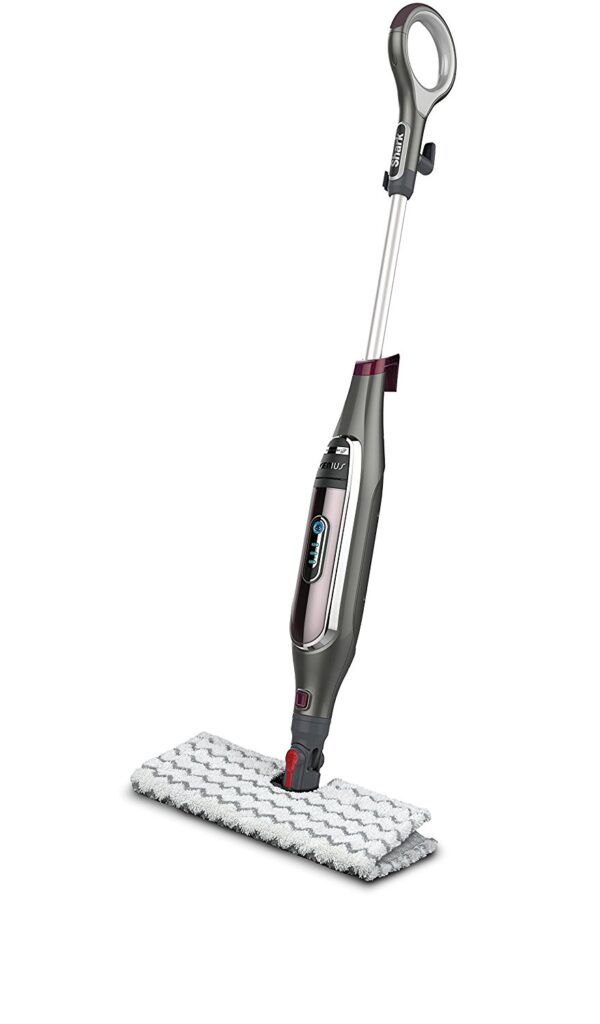 This double-sided mop can reach under cabinets and around corners while giving you a boost of steam with the flip of the head. Further control the amount of steam with three power settings that evenly releases steam throughout the pad. The moistened pad slides over any water-safe surface and grabs dirt instantly. For tough stick-on messes the reverse side sends a condensed blast of steam directly on the tough spots. Then dispose of the washable pad with its hand-free release lever. This natural cleaning method kills 99.9% of germs while keeping your hands clean.
Pros:
Light-weight and easy to maneuver
Includes a water cup for filling
Floors dry very quickly
Cons:
Does not stand up on its own
Over-active swivel movement makes it difficult to move in a straight motion
---
3 O-Cedar Microfiber Steam Mop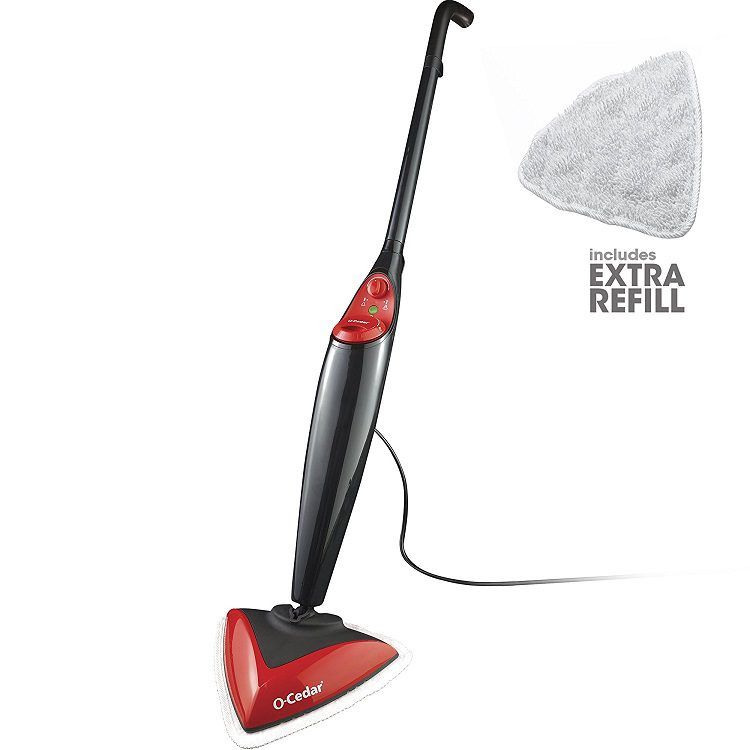 Go from hard floors to carpet with this dynamic steam mop using the attached glide piece. The triangle design allows for complete reach of corners and nooks. The washable micro-finer pad grabs dirt and 99.9% of bacteria giving you an all-natural clean without chemicals. Control the all-around steam power using the adjusting knob for the perfect amount of water for each task. The mop heats up within 20-seconds after plug-in to save you time and hassle. It also comes with an extra refill mop to continuously clean any sealed surface. Simply remove the pad and add the glider to move on to the carpet.
Pros:
Easy to attach pads using Velcro
Very quiet machine
Easy to maneuver and very flexible reach
Cons:
The pad does not lay flat so multiply runs are needed for full floor coverage
Leaves streaks on the floor
---
2 Bissell Symphony Pet Steam Mop and Steam Vacuum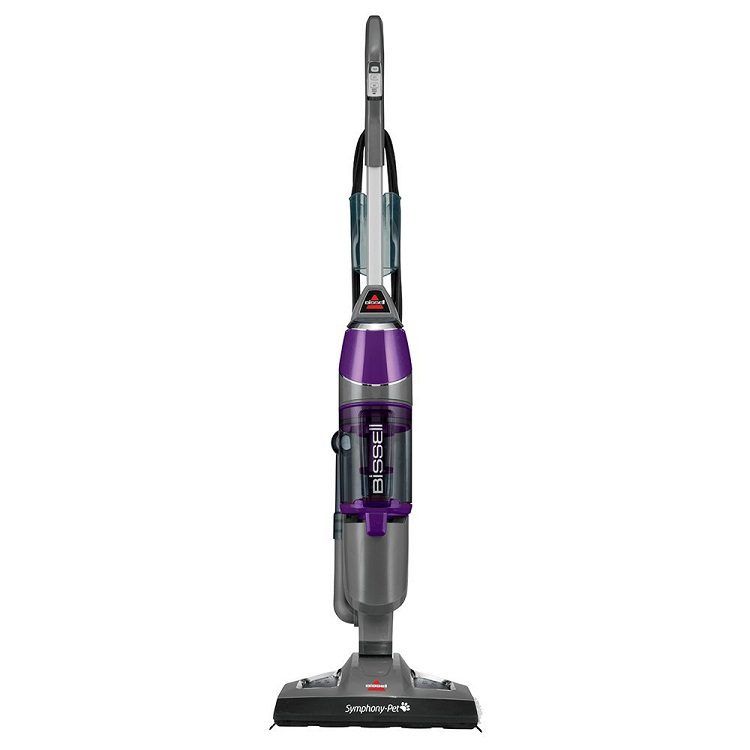 Unlike the other mops on this list, this one provides both suction and steam that is designed specifically for pets. Switch from solid to liquid messes with two attachments; for solids use the washable pads and for wet messes easily attach the Bissel disposable wet napkins. Also, adjust the steam power and vacuum sucker to accommodate anything your pet left behind. After cleaning, the removable disposal unit provides hands-free discharge of dirty water and particles. Just release the bottom hatch and pump the top stick to push all debris without touching anything. This mop organically cleans your home removing 99.9% of germs.
Pros:
Can easily switch to wet swifter pads
Free-standing design
Provides very strong suction
Cons:
The machine is loud
The steam function is weak and can leave streaks
---
1 Nugeni Steva+ All In One Upright Cordless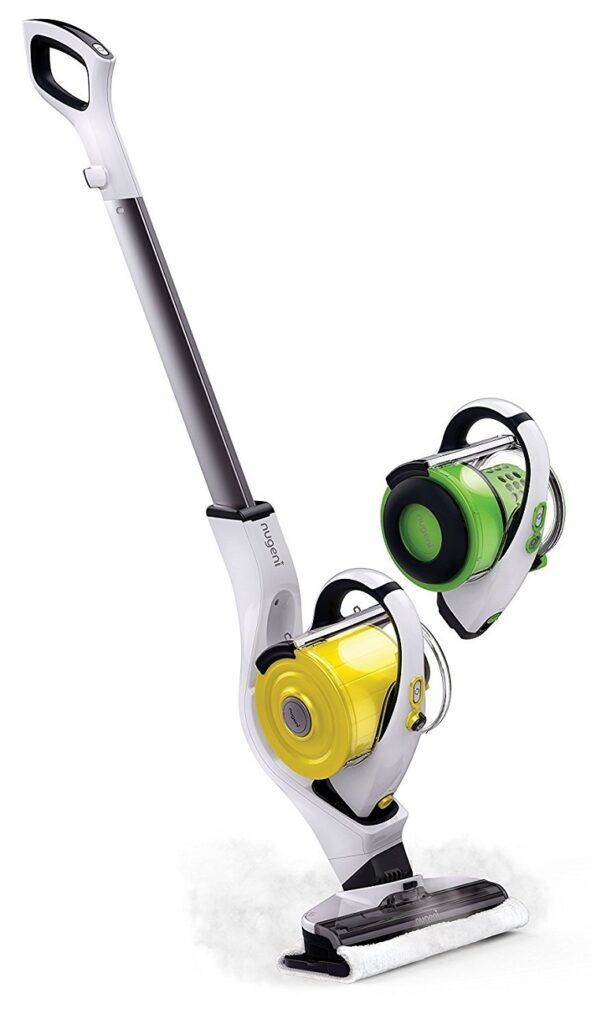 This one is by far the priciest product on the list but for good reason. This steamer interchanges into a hand-held steamer and vacuum and back to a free-standing steam vac. The accessories complete this handy package by giving you an assortment of nozzles, hoses, pads, and attachments to clean the inside and outside of your house. It even includes a squeegee for window cleaning. With its cordless 20vMax Li-Ion battery, you can take it with you for 25 minutes of suction and a water tank for 39 minutes of steam. The vacuum booster helps with large messes and the filtration system removes allergy-prone dander.
Pros:
Hands-free waste disposal
Contains high-efficiency boiler for fast heating
Choice of manual or continuous steam
Cons:
It is heavier than most steamers
Water container is small
Reasons Why You Should Switch To A Steam Mop
Let's be honest; pulling out a mop and bucket when it's time to clean is a hassle. Not to mention, the headache dumping out the dirty water once you're finished. Luckily, things have advanced quite a lot in the mopping department. You no longer have to mop and scoot the bucket along with you as you go. Nor do you have to hang the mop upside down to let it dry. Here are some pretty reasons why you should switch to a steam mop:
Quick And Easy
Just the idea of mopping without a bucket is mind-blowing. With traditional mopping, you have to find detergent and fill a bucket with water, which is a lot of hassle. But nowadays, all you have to do is grab the steam mop and go. You can clean hardwood for your kitchen floor in a fraction of the time because wetting the floor only requires the push of a button. There's nothing more hectic than putting the mop back into the water and ringing it out as you go.
Less Mess
Mopping floors with a traditional mop is pretty messy. There's usually water splashing on the floor, and it's not pretty. Plus, you can't forget the filthiness of having to ring out the mop. There is tons of dirt and germs on the floor, and mop water usually has a grey color once you're done with your task. That should explain just how yucky it is to stick your hand into the water. Sure, you can wear gloves, but that still doesn't keep water from splashing on you or somehow getting underneath the glove. It's much easier the clean your floors with a steam mop.
Doesn't Give Bad Odor
Have you ever walked into a home or business and could smell that someone cleaned with a dirty mop? It gives such an awful smell that it almost defeats the purpose of mopping. No matter how spotless the floors might be, it still feels like you're walking into a dirty environment. Thankfully, steam mops don't present that problem. They clean the floors in a way that doesn't require using old mop water, which is amazing—not only for cleanliness but for the smell.
Steam
Cleaning with steam is far better than using a bucket of water. For starters, it clean without needing lots of H2O. That way you don't have to worry about getting wet, or carrying out a heavy bucket after you're done cleaning. Plus, hot steam kills bacteria and dust mites. If you have a lot of mopping to do, chances are the water will get cold, even if you put hot water into the pale. But with steam mopping, it keeps the water hot as you go.
Which Steam Mop Should You Buy?
Like all products, the price tag increases with more features. Many items on this list offer quick clean up options while others can provide you with a multipurpose all-in-one cleaning tool. Both are well worth the investment as these mops come in hardy for small and large tasks. It is best to decide how much you will you use the steamer, for what tasks will you use it, and do you want to invest in a vacuum steamer.
A great compromise between price and resourcefulness is the SKG 1500W that comes with a variety of attachments. If you want to primarily steam, this mop will still provide you with some adaptability without the high cost.