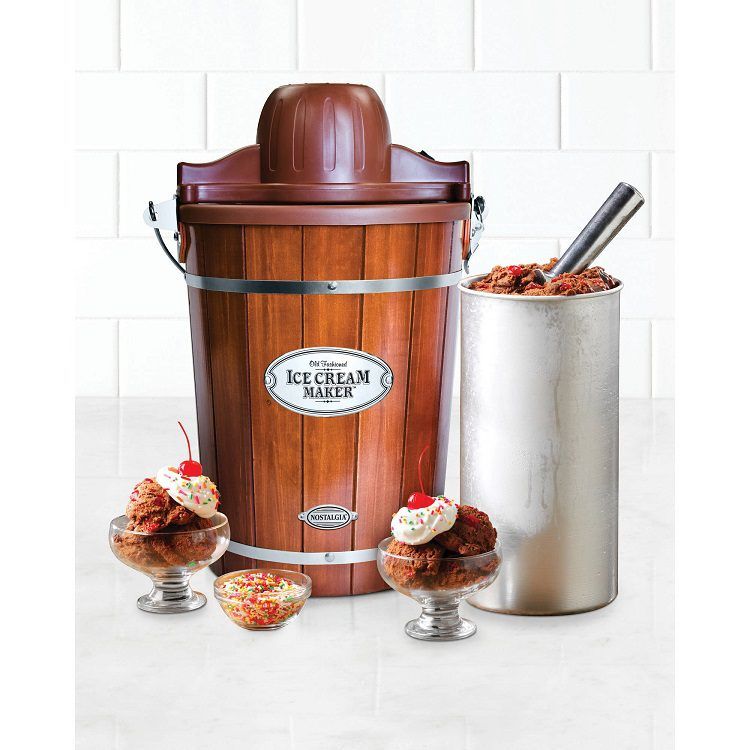 Ice Cream makers have come a long way in the last 100 years. Many people take the easy way out and simply buy ice cream already made but where is the fun in that?
Other than tasty treats made to your exact liking, one of the best benefits of homemade ice cream is the opportunity to get people off the couch and into the kitchen for a little fun. For those that have to watch sugar counts, owning your own ice cream maker is the best way to watch your diet and make sure your treats are healthy ones.
Shopping for an ice cream maker sounds easy, but when you consider how many of them there are on the market, choosing the right one is chancy. How you prefer the consistency of ice cream and what your willing to pay for a good machine are two things you need to keep in mind before you click "buy." Here are 10 of the best ice cream makers Amazon has to offer and chances are, the one you want is going to be on this list.
[toc]
10. Aicok Ice Cream Maker, Automatic Ice Cream Machine
No products found.
At an l.5 quart capacity, this machine makes more than enough to share. Adding treats to your recipe is easy. Instead of removing the lid, simply pour them down its conveniently sized funnel, choose one of six pre-set times appropriate for the recipe, and in 20 to 30 minutes your ice cream feast will be ready to eat.
Adults may enjoy the convenience of its easy lock but what fascinates children (as well as the grown-ups) is the lids transparency which allows you to watch as the miracle of taste is formed.
Pros
Accessories are detachable, making them very easy to clean.
Compact and sleek, it will not take up valuable counter space.
Knowing exactly what's inside your food without relying on a factory label is very comforting.
Cons
Doesn't operate silently and some find the noise irritating.
Paddles can be difficult to lock into the motor.
---
9. Homia Ice-Cream Maker 1.58 Quart With Digital Timer
With a digital timer, this machine is so easy to operate and its stylish design also makes it an attractive addition to your collection of kitchen appliances. Designed for soft-serve deserts, this unit allows you to make your very own "custom" ice cream. In case of overheating the built-in safety circuit will kick in. However, that isn't likely to happen because its "intelligent" motor automatically changes the rotation of paddles to guard against it.
Pros
Impress your fellow ice cream lovers with "custom" ice cream creations.
Set the timer, and wait. It's that easy.
Recipes are only limited by your imagination. It's your ice cream, so add anything you want.
Cons
If serving bowls are not chilled, ice cream tends to melt quickly.
The smaller your kitchen is, the noisier this machine tends to sound.
Buy on Amazon
---
8. Donvier Manual Ice Cream Maker
Forget the salt and ice, with this machine all you need to make a quart of tasty ice cream, sorbet or other frozen desserts is a power outlet and 20 minutes. Your only chore after switching the power on is to turn the crank occasionally while the freezer bowl and attached paddle do the rest. Manufacturers of this unit offer a 10-year warranty, and they wouldn't be doing that if they didn't trust their own product to operate as advertised.
Pros
So easy to clean, this is one of those kitchen appliances that won't be put away and forgotten about.
Custom flavors to please the pickiest eaters.
Built solidly and meant to last for years.
Cons
O-Ring connecting outer bowl to inner bowl can be difficult to connect properly.
Crankshaft tends to stick, making it difficult to turn.
---
7. Gourmia GSI170 Automatic Ice Cream Maker
Gourmia Automatic Ice Cream, Frozen Yogurt & Sorbet Maker with Digital...
3 PINTS: Make up to 3 pints (or 1.5 quarts) of velvety smooth ice-cream, sorbet, and frozen yogurt in one batch.
NATURAL & FRESH: Keep it healthy with fresh cream, eggs, sugar, and fruits- no artificial stabilizers or preservatives...
DIGITAL TIMER: Features a sleek LCD display and controls to easily set and monitor churning time.
Other than taste, the best part of making your own ice cream is being in control of the ingredients. Eating freshly made ice cream without nasty preservatives adds a whole new level to the flavor factor, and people with dietary restrictions get to enjoy an affordable guilt-free treat. An easy pour spout makes adding ingredients hassle-free, and the digital timer ensures a perfect batch every time no matter what the recipe requirements are.
Pros
Operates quietly.
Large, 3-pint capacity.
Easily cleaned and compact enough to fit inside the average kitchen cabinet.
Cons
Maximum time is 20 minutes and most recipes call for 40.
The lid is difficult to fit securely.
---
6. Cuisinart ICE-30R Pure Indulgence
Pure indulgence is the perfect name for this machine. An integrated, heavy duty motor, double insulation on the freezer bowl, and automatic mixing paddle can have your treat ready in as little as 25 minutes, consistently smooth every time. The ingredients spout makes adding extra treats easy because you don't have to remove the lid. This is a very stylish machine and most people choose to leave it right out on the counter where everyone can see it.
Pros
From Cuisinart, the durability of this brand is well known.
Most brands make a little over one pint, this one makes two!
The brushed metal is more than attractive, cleaning it up is very easy.
Cons
Drums are not dishwasher safe.
The connection between the vane and cylindrical frame is very thin.
---
5. Cuisinart ICE-45 Mix It In Soft Serve  Ice Cream Maker
Cuisinart ICE-45P1 Mix Serve 1.5-Quart Soft Service Ice Cream Maker,...
Easy-lock Lid with Window – Lid is designed to remove and lock easily. An ingredient window allows you to pour...
Mixing Arm (not shown) – Mixes and aerates ingredients in freezer bowl to create smooth soft ice cream, Dispensing...
1 1⁄2-Quart Freezer Bowl (not shown) – Contains cooling liquid within a double-insulated wall to create fast and...
Here's a unit that delivers on its promise of professional quality ice cream from your own kitchen. Simply add your ingredients, turn the simple on/off power dial on and then after a short wait of 20 minutes, your dessert is ready. Non-slip rubber on the feet keep it secure during use, the easy lock lid has a window so you can peek in, and it even has a dispensing feature that makes it swirl out like self-serve machines you see in restaurants.
Pros
It only takes the pull of a tab to choose from any of the 3 condiment dispensers so your favorite extras can be added as the ice cream is dispensed.
Flat bottom or pointed, either type of cone will fit in the convenient holder.
Most parts are removable for easier cleaning.
Cons
The condiments dispenser is an excellent idea but this unit isn't easily stored away in a cabinet when not in use.
Condiments need to be on the small side or you risk clogging the machine.
Buy on Amazon
---
4. Cuisinart ICE-100 Compressor Ice Cream and Gelato Maker
Cuisinart ICE-100 Compressor Ice Cream and Gelato Maker, Silver,...
Fully automatic with a commercial quality compressor. 1-1/2-quart ice cream bowl capacity
LWH: 16.73 x 12.00 x 9.33,UC LWH: 13.75 x 17.50 x 13.50,MC LWH: 18.00 x 14.25 x 14.25 inches . Weight : 32lbs
2 paddles - a gelato paddle for authentic gelato and an ice cream paddle for creamy ice cream
Here's another example of Cuisinart's fine craftsmanship. The compressor in this unit is commercial quality and it has a 1-1/2 quart capacity. With this kind of power you can make one batch after another and no waiting involved. All you need to do for gelato or ice cream is use the appropriate paddle. The mix-in opening enables you to add flavors as you go along without interrupting the freezing cycle and a see-through lid allows you to see what's going on inside without removing the lid.
Pros
Mixing bowl has a very convenient lift-out handle.
The anodized aluminum mixing bowl does not require pre-chilling.
If you need to pause the process for any reason the same button stops and restarts.
Cons
The lid is sometimes difficult to seat properly and get it to lock.
Only works on a 110V power grid.
Buy on Amazon
---
3. Cuisinart ICE-70 Electronic Ice Cream Maker
This Cuisinart takes the guesswork out of making the perfect bowl of ice cream. LCD lighting on the control panel makes it easier to see and the push pad makes it easier to use. Three speeds ensure you have the perfect setting for any recipe. An improved paddle lessens processing time, and with a count-down timer that shuts off automatically, you never have to worry about turning it off.
Pros
User-friendly and easy to clean up.
The best available in ice cream makers that don't have compressors.
Generous 2-quart capacity so everyone can have a sample.
Cons
The lid is hard to attach securely and may wobble during use.
The operation is loud and distracting to some.
Buy on Amazon
---
2. Whynter ICM-15LS Ice Cream Maker
No more ice and salt! No more freezing the container ahead of time! Most bowls require freezer time before use but not this one, it's ready to go when you are. The LCD panel only needs a soft touch to start the process, and the upgraded motor will shut off to prevent damage in the event of a batch freezing solid. The powerful generator in this unit is one of the best on the market and it has what you need to make some of the best ice cream you've ever tasted.
Pros
Temperature display ensures there is no guesswork involved.
The built-in timer is reliable, just turn it on and walk away.
The stainless steel casing isn't simply stylish, it's also very easy to clean.
Cons
Freezing often takes longer than 20 minutes.
Feeder slot for adding ingredients or taking samples is inconveniently small.
---
1. Breville BCI600XL Smart Scoop Ice Cream Maker
Breville BCI600XL Smart Scoop Ice Cream Maker, Brushed Stainless Steel
Note: Kindly review the videos under the image section and user manual under product details for set up and user...
12 hardness settings; sorbet, frozen yogurt, gelato, and ice cream,Capacity 1.5 quart (1 Liter) bowl capacity
Self refrigerating compressor: Voltage: 110 to 120 Volts Power: 165 watts
This unit features automatic hardness settings so you get your ice cream just the way you like it. The first of its kind, it automatically senses the hardness of your mixture based on selection and will even keep it ready for you until its time to eat. Fully automatic or manual, the choice is yours and it will keep cool for up to 3-hours. Very appropriately named, the Smart Scoop is an excellent addition to anyone's "gadget collection."
Pros
12 hardness settings are suitable for any frozen treat.
Pre-cool setting optimizes operating temperature.
Environmentally friendly, this unit is made of BPA free materials.
Cons
Compressor appears to be somewhat delicate.
New machines may have a plastic/electrical smell during use.
Do You Really Need An Ice Cream Maker?
There's nothing like homemade ice cream. It's a summertime favorite that puts a smile on everyone's face. Of course, there is plenty of ice cream in the store that's quick and easy to buy, but it's not quite the same. If you're unsure whether you should get an ice cream maker, here are a few suggestions:
Tradition
If you are someone who has a mother or grandmother who made homemade ice cream, then you know how special it is. Surely, you can remember how excited you were when she yelled out to tell you to come and get a bowl. Ice cream made at home gives a nostalgic feeling that can't be beaten. So why not pass down that joy to your children? They can grow up having the same memories of making homemade ice cream, and they might pass it down to their children as well.
Health
As people begin to become more aware of what they put into their bodies, that will naturally affect food choices. Putting all-natural, unprocessed food into your body is one of the smartest things you can do. Unlike buying store-bought ice cream, doing it yourself ensures that you know exactly what you are eating. Plus, you don't have to worry about possible food tampering. By preparing it yourself, you can feel good about serving it to your family.
Customizable Flavors
There are tons of delicious flavors of ice cream at the store. However, you might find that it's not exactly what you want. Maybe you like chocolate and pecan ice cream, but you'd prefer that the product didn't have fudge swirls in it. You might buy it and deal with it, but wouldn't it be nice to have ice cream that's precisely what you want? You could add in as many brownie chunks as you'd like or extra gobs of peanut butter. Actually, you make an entirely new flavor of ice cream altogether. It's a win-win!
Special Occasions
Ice cream has a way of bringing out the kid in everyone. You can make your social functions more enjoyable by preparing homemade ice cream. After everyone eats at the cookout, you can provide dessert by setting up a sundae bar. Set out ice cream cones, syrups, cherries, whipped cream, nuts, and more! It's a fun way to spice things up and put a smile on your loved ones faces.
Cost
Let's not forget that making your own cold treats at home saves you money. You might have noticed that ice cream prices have started to rise, especially the name brand products. You'll spend a few dollars for a personal pint of ice cream, but that's not enough to share with your family. Not to mention, some of the better flavors don't come in the large sizes. Luckily, an ice cream maker is a one-time investment that will make several bowls of ice cream for a fraction of the cost. An ice cream machine is a smart purchase for individuals and families.
Which Ice Cream Maker Should you Buy?
Now that you know where to find 10 of the best ice cream makers on the market, the only thing left for you to do is decide which one would suit your needs best. All of them basically do the same thing, but some have features others don't. My personal favorite is # 5, the Cuisinart ICE-45. I like the idea of being able to dispense ice cream straight into a cone and add my favorite condiments while I'm doing it.
Last update on 2021-01-19 at 16:43 / Affiliate links / Images from Amazon Product Advertising API