Hi all, I'm Melissa from A Prudent Life! I'm normally blogging about all kinds of home decor and home organization projects. Today I'm stretching outside my normal zone for a super fun round up of dog costumes!
My logical rationalization for dressing up our German Shepherd is that it makes her less scary when kiddo's come to our door trick-or-treating. But really, I'm quite sure I do it just because it cracks me up.  Some dogs tolerate costumes better than others, so even though it's adorable, make sure your pup is safe & comfy in whatever you choose!
 Ruffle Collar by Lorine Mason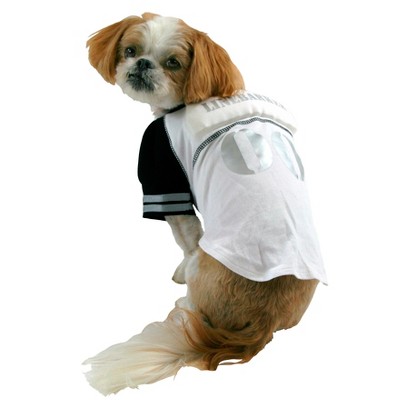 Linebacker Jersey – Boots & Barkley for Target
Chia Pet by The Flirty Guide
Pirate Dog by Make Magazine
PetMeds Delivery Team by PetMeds Blog
Lion Wig Available @ Amazon
Little Lamb by HeavenlyPet on ETSY
Dog Taco by Small Home Big Start
Hostess Cupcake Costume by Sew Doggy Style
And saving the best for last, here is the little $4 DIY costume I put together for my dog Maddie!
Fairy Princess by A Prudent Life
I hope you all enjoyed the crazy dog costumes I found. Do you dress your dog up for Halloween?
I'm so glad Melanie had me over to do this fun post. I'd love you to pop over to A Prudent Life and check out some of my "normal" posts, like my Fall Home Tour!