Welcome to The Weekly Creative Thursday Link Party!
Each week we are impressed by the types of projects you link up and out of all the parties out there we SO appreciate that you take the time to come to ours! You guys rock!
Last week's most viewed link was DIY Cupcake Stand from Young and Crafty! Congrats!
This week our party sponsor is The Pin Junkie

You can follow the Pin Junkie on Facebook and Pinterest!
How can you be the next sponsor? Link up in the first 100 spots and you might get randomly chosen!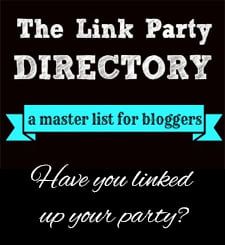 Do you have a party yourself?  Make sure you link it up at The Link Party Directory!  Click over here!
Thanks for linking up with us! Here are just a few small rules we'd love you to follow:
~Add a party text link or party button to your post or blog. This helps us in exchange for letting ya link up! The more who know about the party, the better!
~Click on a few links from the party. No-one likes a link and run blogger! Besides, you might find some great inspirations out there!
~ Use the share buttons at the bottom of the post to share The Weekly Creative on Social Media! The more people that find out about the party, the more it benefits you!