Welcome to The Weekly Creative….with your PARTY HOSTS……..
That's right! We have a new host in town: Rachelle from Fingerprints on the Fridge. You know her, we love her and now she's part of our team. Yeah!!!
If you've been wanting to host a weekly link party but haven't bit the bullet yet, this might be the opportunity for you!
The Weekly Creative is adding additional permanent co-host positions and we want YOU to consider applying!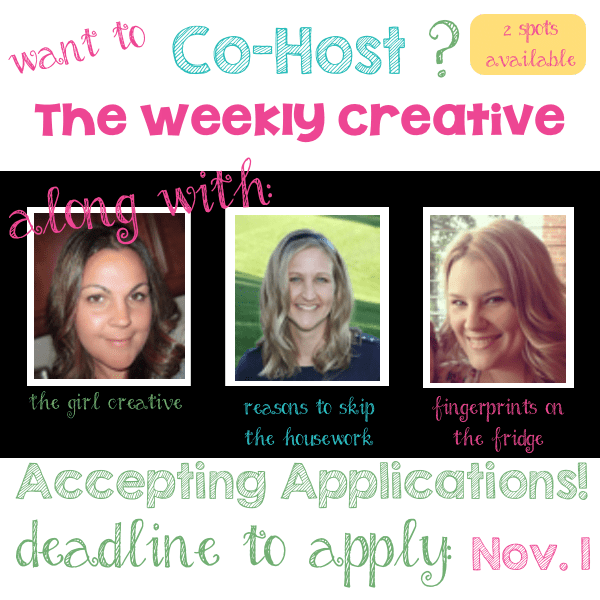 Currently The Weekly Creative has an average of 300+ link ups and is steadily growing! The party goes live each Thursday morning at 8AM EST.
If you're:
**Able to post at this time each week
**Promote on social media weekly
**Are dying to be a part of a great team including ME, Diana from The Girl Creative, and Rachelle from Fingerprints on the Fridge?
 
APPLY HERE —>>>
https://docs.google.com/forms/d/1RzI2JIs6aMGrV-h81i2OtswpFCHeKLIAWBrPIl7coo4/viewform
Alrighty, now that all of the bloggy biz is out of the way, let's get to partying! You know the drill! Have a safe and fun Halloween!