Halloween is almost here –  I'm celebrating with a new giveaway! Two lucky winners will win a Halloween cookie gift from Gourmet Cookie Bouquets .  You'll get to choose anything from their Halloween Cookie page – up to a $64.99 value.
You can choose iced shortbread cookie bouquets, brownie gifts, Halloween themed fortune cookies and more!
Contest ends October 20th so hurry and enter today!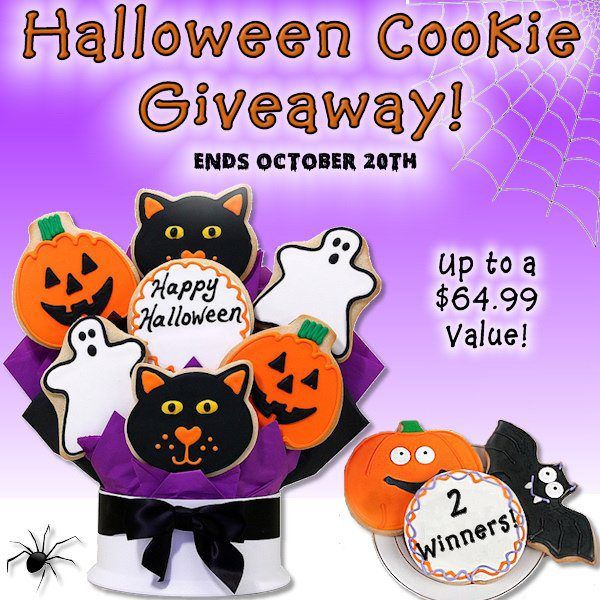 Along with the fun iced cookies, if you want a gift with a little more variety – they have a great selection of cookie gifts that feature flavors like chocolate chip, oatmeal raisin, peanut butter, M&M and white chocolate chip macadamia.
For the chocolate lovers on your list, they've got super fancy bouquets with Belgian chocolate dipped Oreo Cookies, Fortune Cookies, Truffle Cake Bons, Pretzel Twists or brownies!  What a fun treat to send someone's way!
There are also great containers that hold the delicious goodies.  They have Halloween themed tins, jack-o-lantern trick-or-treat pails and festive planters that can be enjoyed year after year.
The best part of our Halloween Cookie Giveaway?  You don't have to go door to door to get an amazing Halloween treat.  They ship one straight to yours!  Good luck!
The giveaway rules:
*Enter using any of the Rafflecopter choices available for entry below. Any of the options are acceptable, and entries per person are limited to the number indicated in the contest form. Entries will be reviewed and duplicate or uncompleted entries will be removed.
* If you have problems using Rafflecopter, be sure you are running the latest version of your web browser and have JavaScript updated.
NOTE – You must complete the specified entry task in order to be eligible to win the contest. If you click the green entry button without completing the task, your entry will be thrown out (disqualified from winning the prize).
*Contest is open to all residents of the 48 Contiguous States and only to those 18 years of age or older!
*The two winners will be randomly chosen by the contest sponsor Gourmet Cookie Bouquets.
*The winners will receive the gift of their choice from this page - up to a $64.99 value.
*Winners will be notified via e-mail. You must respond within three days of being contacted. If you do not respond within that period, another winner will be chosen.
*The full list of the cookie giveaway rules can be found in this pdf.
*Sweepstakes ends at midnight EST on October 20th, 2013. The sweepstakes winners will be announced by October 27th, 2013